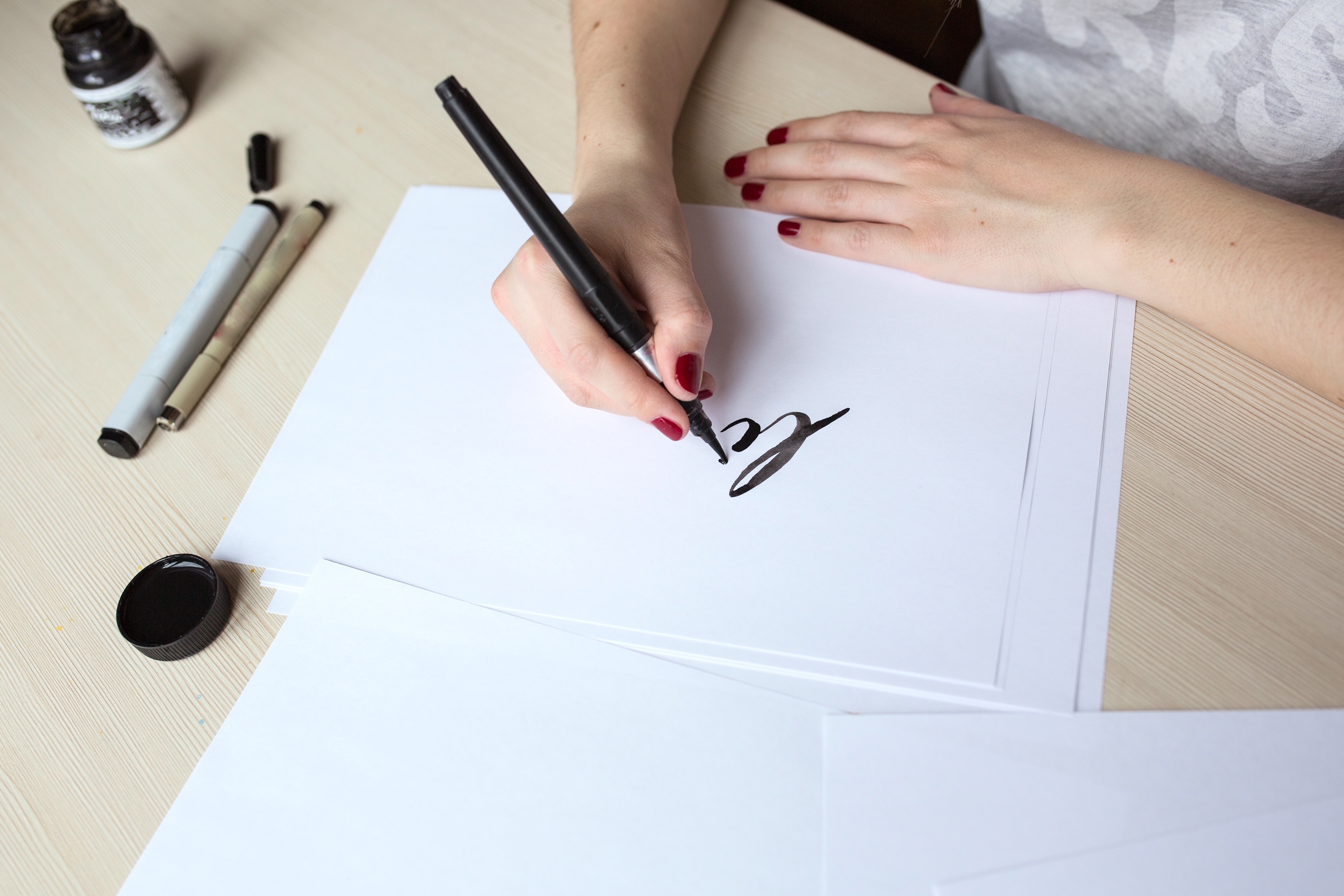 Handlettering or modern calligraphy or brush lettering – there are many names for the art of beautiful writing. What is hand lettering? What materials do I need? How do I start as a beginner? - If you're asking yourself these questions, you've come to the right place.


Hand lettering is not as new as many people think. The art of beautiful writing has its origin in calligraphy. Even back then, the line between writing and drawing was blurred.
Especially in the digital world, handmade products are becoming popular again – a new revolution. People want to express their own individuality again and are not satisfied with something mass produced off the assembly line. This is why, in addition to the DIY (do-it-yourself) trend, hand lettering is also playing an increasingly important role in our daily lives. Today we can find many postcards, bags, and advertising signs with handwritten elements.


Hand lettering is also about slowing down in our fast-paced world. It takes time and practice. You have to fully concentrate on your artwork and forget the hustle and bustle of everyday life. The written word becomes a work of art, the writing itself becomes art. You can only achieve your own personal perfection with calm, patience, and focus.
Since there are endless variations and styles, the search for your own style is also a form of self-discovery. The advantage? – There is no right or wrong. Without firm rules, perfection lies in the eye of the beholder. Hand lettering is suitable for everyone and anyone can learn it. And you don't need to have fine penmanship! As is the case in many other fields, practice is the key to success.

I always say practice makes progress, not perfection as there's always the next stage to our creative journey!


You can essentially use any pen for hand lettering. Depending on the style, different pen types are more suitable than others. A pencil, an eraser, and a ruler are also good tools to have. You can use them to draw guide lines or entire phrases and correct small mistakes.
For brush lettering, you mostly use brush pens, which are also called brush markers. They have a flexible tip that allows you to vary the thickness of your lines by applying different amounts of pressure, creating a dynamic look. Brush pens are available with brush tips of different lengths and hardnesses. You can also use felt-tips and fineliners to achieve a calligraphy effect by using faux calligraphy techniques. (That's how I started!)

Can't decide? Then simply start with a brush pen with two tips, like our the Tombow ABT Dual brush pen. You can use it to combine different lettering styles and you only need a single pen. Otherwise the Tombow Fudenosuke hard tip or Pentel Touch Brush pen is suitable for beginners because their small hard tips are easy to control.
Hand lettering is most often equated with brush lettering. The brush gives your lettering a dynamic style similar to traditional calligraphy. With a brush or special brush pen, you can draw different line widths by applying different amounts of pressure. Use the following rule as a guide:
The size of the brush tip determines the size of the letters you can write. With large brush tips like the Tombow ABT Dual Brush pen, you can also draw large letters, whereas small brush tips like the Fudenosuke or Pentel are also suitable for greeting cards or place cards. A further distinguishing feature is the hardness of the brush tip. Harder brush tips make it easier to control the line width. Soft brush tips offer feather-light dynamics.

The last thing to say is how you hold the brush pen is integral to achieving those thin and thick lines. To write most of us hold the pen fairly perpendicular to the page (the end of your pen is pointing at the ceiling) or sometimes the end will be pointing back towards your body. However to utilise the lovely brush you have at the tip of your pen you need to lower the angle of pen towards the page. About a 45 degree angle is perfect and the end of the end should point off to the right hand side if you are right handed or tot he lrft for those lefties out there. Holding your pen so that it sits parallel to the lines on the page is another marker of a pen in the right place.

If you're sucked in to all things lettering and really want to give it a go, why not try the Beginner's Handlettering Pack - a perfect set of book, pen and guides to get you started at home. Or if you have tried handlettering out and you think you'd like the benefit of in-person tuition then why not take a look at my latest workshop dates.

Thanks for reading my top tips and hapy lettering!

Sarah

xx